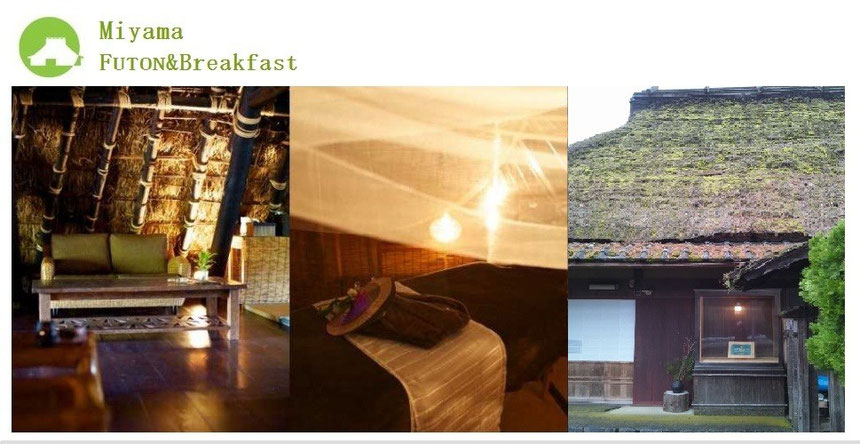 Miyama Futon & Breakfast
A Thatched-roof Private House Built 150 years Ago
Miyama FUTON & Breakfast is a traditional thatched-roof private house located in Miyama region, Kyoto Pref., famous for its Kayabuki no Sato (Thatched Roof Village). The house was built some 150 years ago, by a thatched house workman. He was one out of a total of 50 workmen in Japan. The house was registered as a tangible cultural property in 2010. 
 We are a Japanese-style Bed&Breakfast (Futon means bed in Japanese). Breakfast is included. It is served from 8:00am. Our breakfast is western-style, delicious local fresh food, and very popular among Japanese guests. Our staff prepare breakfast in the kitchen from 7:00am.
 Please feel free to use the refrigerator and other facilities in kitchen. You can cook for yourselves, or barbecue outside the house. The barbecue grill is rented for free.
Attention:
For inquiring in foreign languages and/or by int'l phone or fax, we are afraid that we do not handle bookings. Please send your inquiry or reservation request through the form on this web site.
The hotel is registered as a tangible cultural property of the country. Guests will be charged compensation for damages.
The entire house is non-smoking for fire protection. Barbecue inside the house or fireworks outside the house are prohibited.
Layout of the House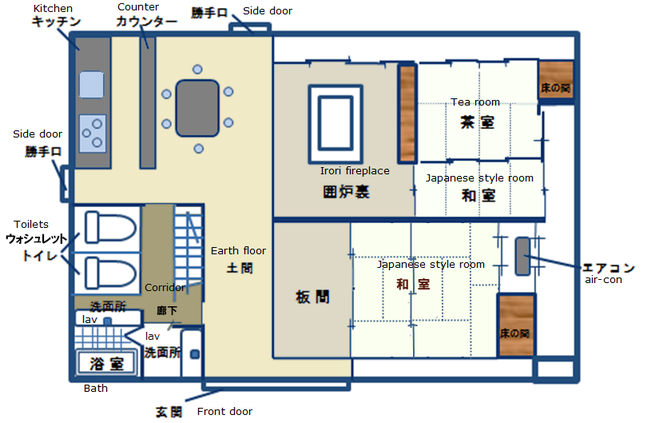 Conditions
Check-in

from 15:00 until 20:00

*If you are late for check-in time, please call in advance.

Check-out

until 10:00

*Checking out later is also possible. Please inform us in advance.

Payment

Payment is to be made in advance. We accept credit card and PayPal.

Meals

Japanese style dinner and western style breakfast are served in rooms or the dining room.

Facilities

bath, toilet, kitchen, microwave oven, refrigerator, tableware including chopsticks, cooking utensils, coffee maker, washing machine with dryer, laundry detergent, futon and blankets, heater, air conditioning, fan

Wifi Internet access available.

※ There is no TV in the house.

Room Amenities

toothbrush, toothpaste, cotton, swabs, hand soap, body soap, shampoo, conditioner, face towel, bath towel,

coffee, tea, herbal tea, green tea

Parking
6 free parking spaces. Please make a reservation in advance.
Transportation Service
We offer transportation service to the nearest station. Please contact us in advance.
Cancellation Policy
  15 days or more prior to the date of arrival:no fee
  14 days prior to the date of arrival:10% charge
  10 days prior to the date of arrival:20% charge
  7 days prior to the date of arrival:30% charge
  2-4 days prior to the date of arrival:50% charge
  1 day prior to the date of arrival: 70% charge
  on the date of arrival or no-show: 100% charge
      *Cancellation notification time is regarded in Japan standard time.
Important Notice
 Smoking is NOT allowed inside and around our wooden building.
Photo Gallery
Features
Contact

-150 year old thatched roof private house

-Registered national tangible cultural property

in 2010.

-Delicious western-style breakfast cooked with

local ingredients.

-Check in: from 15:00 until 20:00

-Check out; 10:00

-Parking:6 Cars / Free

 

*Smoking is NOT allowed in and around our

wooden building.

Address:

Hanabusa29 

Miyamachoshima

Nantan

Kyoto Prefecture 601-0751

Japan

 

 

(Currently, we do not take bookings

by phone or fax from  overseas.

Please use the inquiry form on this web site.)

 
  Copyright ©2016 Jissen Inbound. All rights reserved.